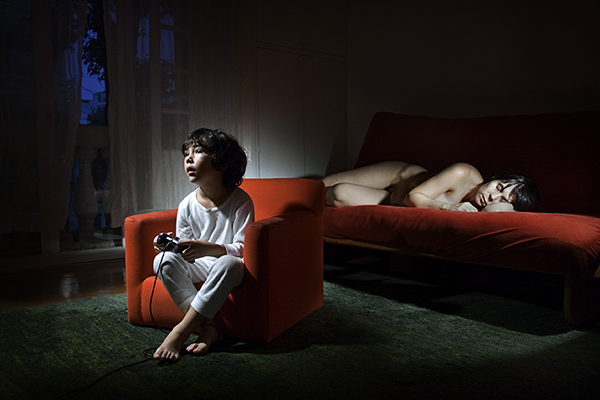 Exposed/Expuesta
August 24 – October 13
Opening Reception:
Thursday, August 24 / 6:30 – 8:30 PM
Mexico's complex history has created an equally complex society. Over time, it has absorbed various different cultures and traditions, combining strong Catholic values with beliefs from other religions, and mixing influences from foreign cultures with indigenous, pre-Hispanic customs. Exposed/Expuesta, the latest exhibition at The Light Factory, will feature work by ten contemporary artists who use photography to question and challenge notions of identity through personal and cultural explorations of their own environment.
Please note that we will have Spanish-speaking gallery guides at The Light Factory for the following dates and times:
Saturday, September 9th from 2-4 pm
Saturday, September 16th from 2-4 pm
Saturday, September 23rd from 2-4 pm
Saturday, September 30th from 2-4 pm
Saturday, October 7th from 2-4 pm
Note: This exhibition includes adult themes and content, including nudity. Parents may wish to preview the exhibition before viewing with younger visitors.
Exposed/Expuesta is a part of In Focus/Enfoque, an ambitious multi-institution exhibition of contemporary Mexican photography taking place in Charlotte from August 2017 through spring 2018. As a major supporter of arts and culture across the region, Bank of America led the planning, collaboration, and funding of In Focus/Enfoque. The Arts & Science Council is supporting collaborative community engagement and programming efforts.
Expuesta/Exposed
Del 24 de agosto al 13 de octubre de 2017
Recepción de apertura:
Jueves, 24 de agosto de 2017 / 6:30 – 8:30 PM
La historia compleja de México ha creado una sociedad igualmente compleja. Con el tiempo, México ha absorbido varias culturas y tradiciones diferentes, combinando fuertes valores católicos con creencias de otras religiones y mezclando influencias de culturas extranjeras con costumbres indígenas y prehispánicas. Exposed/Expuesta presentará el trabajo de 10 artistas contemporáneos que usan la fotografía para cuestionar y retar las nociones de identidad a través de las exploraciones personales y culturales de sus propios ambientes.
Por favor note que tendremos guías en español en la galería de The Light Factory durante los días y las fechas siguientes:
Sábado 9 de septiembre de 2 a 4 pm
Sábado 16 de septiembre de 2 a 4 pm
Sábado 23 de septiembre de 2 a 4 pm
Sábado 30 de septiembre de 2 a 4 pm
Sábado 7 de octubre de 2 a 4 pm
Nota: Estas exhibiciones pueden abarcar temas y contenidos adultos incluyendo desnudos. Se sugiere a los padres visitar las exhibiciones antes de verlas con visitantes más jóvenes.
Exposed/Expuesta es una parte de In Focus/Enfoque, una ambiciosa exhibición multiinstitucional de fotografía contemporánea mexicana la cual tomará lugar en Charlotte desde agosto de 2017 hasta la primavera de 2018. Como patrono principal de las artes y la cultura a través de la región, Bank of America lideró la planeación, colaboración y el financiamiento de In Focus/Enfoque. La coordinación educativa y comunitaria es coordinada por el Arts & Science Council.
. . .
[ IMAGES top to bottom ]
Ana Casas Broda
Kinderwunsch series
Luis Arturo Aguirre
Phoebe, Desvestidas series
Diego Moreno
De la serie: Ensayo para una despedida
Antonio Lozano
De la serie: The revenant